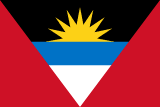 Antigua Visa Processing
As of 02 July 2019, Antigua and Barbuda citizens had visa-free or visa on arrival access to 147 countries and territories, ranking the Antigua and Barbuda passport 29th in terms of travel freedom according to the Henley Passport Index.
How to Proceed
Requirements
Bio page of a valid passport (6 Months Validity)
2 recent passport photograph, white background (45mm x 35mm)
A recent police record
Birth certificate
Marriage certificate (if married)
Proof of funds to finance the trip i.e. bank statements for the previous two months
Application form
Estimate
Flight ₦1,000,000
Virginal birth ₦544,000
Accommodation: ₦272,000 per month
Baby documentation: ₦8,000 (Duration: 3 - 4 weeks)
Visa Fee ₦92,000 (Visa Validity: 6 Months Single Entry)
Services charge: Maternity ₦200,000
Total: ₦2,099,000
Time Frame
10 Working Days
Service Charge
Maternity: N200,000
Tourist: N150,000
Children: N90,000
Benefits:
What are the benefits of birthing in Antigua & Barbuda?
Travel Freedom
Great Healthcare
Birthright Citizenship